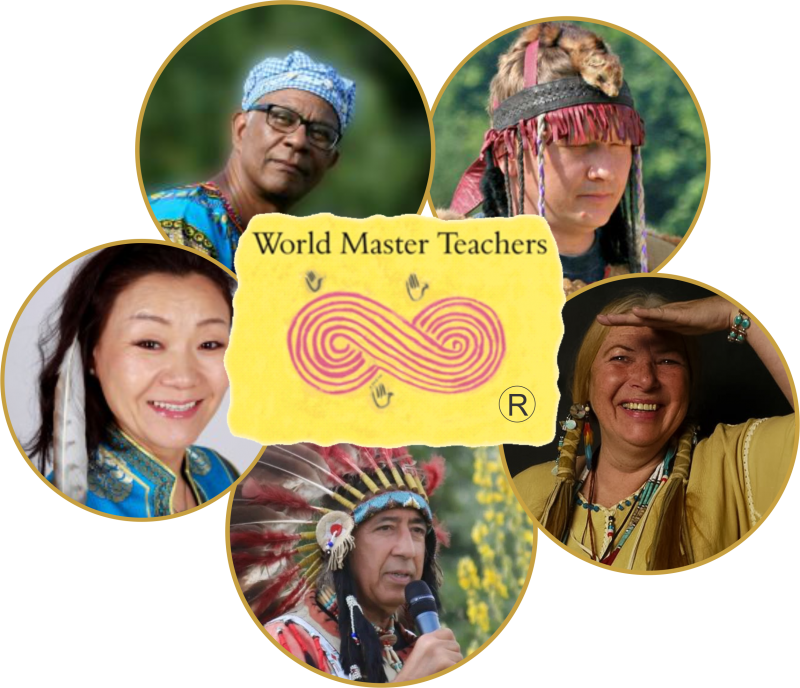 We welcome many international shamans at Zennergi. These indigenous teachers come from North-America, Mongolia, Puerto Rico, The Netherlands & Siberia and represent the traditional forms of shamanism practiced in their home country. They are willing to share the knowledge and rituals that have been passed on to them from generation to generation.
Each shamanic program organised by one of the indigenous teachers will focus on a different aspect of your shamanic development. The shamans who come to Zennergi are recognised under the quality label "World Master Teachers".
A summary of our international shamanic program:
---
Master your emotions
With stories, a sense of humor, visualisation techniques and so much more took Bulgan, a very generous teacher, me and the group on a journey of teachings and healing techniques, insights and understanding. A new light on emotions in general and how understanding animals can help you grow. Working alone and working together with the group. Building up trust and confidence. For me as a coach and facilitator it was also very rich to learn new elements that I can use during my sessions with clients. Gratitude, love and laughter.
Shamanic Death Rituals
Visited a few times now, it's incredible what it did to me already mentally but also physically.. I also got a lot of answers with the dreamtravels, amazing!! Such a nice present for yourself people!
Teachings of the red earth
Only by reconnecting with the age-old teachings of the indigenous peoples will the children of this planet have a future. Blue Star generously shares this wisdom. It's an honour to enjoy her soul essence and to learn about this wisdom and finally start to embody it and become a multiplicator of it. I wish that as many persons as possible become multiplicators of this old universal wisdom, so one day in a not to far future we will build up the critical mass to trigger the profound change necessary in our society, to come back to a conscious relationship with all that is living, in balance, respect, and love. The past is our future. All my love to Blue Star and the beautiful human beings who were at my side during these 4 week-ends. I remember the prophecy given to me 27 years ago by a shaman in Mexcio : "Follow your path. Your destiny is connected with many others, which are interconnected with each other." It is only now that I can start to explore the depth and width of this prophecy. I express my hope that there will be a "Teachings of the Red Earth" follow-up course !
Healers Advanced
It is a big blessing to be able to receive teaching from Chief Dancing Thunder. He is truly Wisdom keeper of the ancient knowledge, knowledge of Eternity. Thank you Eva and Michael for the warmth home coming welcome and arranging the delicious lunch. Looking forward to the next workshop by Chief - Pow Wow.
Trauma Healer
He came, taught his teachings... and then everything changed.
Master your emotions
A subtle yet very powerful tool of connection, to oneself and to our co-beings in the Multiverse, and transformation, through the heart and a true sense of fraternity. There's one sentence that will stay with me forever : "It's not important who you were. It's important who you become." Thank you, Bulgan. My love and gratitude goes to you, my beautiful inspiring teacher.
Shamanic Death Ritual
Since november 2017 I have participated in 4 death rituals with Ahamkara. He is a great guider in these rituals. It has transformed my believes and perception of myself and life. I am very greatfull that he give this lessons in Europe. I hope you have a good expierence two. Go for it!
Healer Program
I feel so blessed and really gratefull that I had the chance to follow this Healer program at Zennergi . It is such a gift that these Teachings are available in Belgium It is a very authentic course where you have the oppurtunity to learn and discover again your Healing capacities. We had teachings from 4 pure authentic Sjamans from all over the world, North America, Mongolia, Siberia, Puerto Rico and it so unique to discover that they all work with the same source. A life time experience that has chanced my life. This teachings give me a real guidance to continu on my Healing path. If you search for pure and honest people and Teachings then is Zennergi your place to be. Thank you Eva and Michael and thank you Chief,Bulgan,Ahamkara and Elliot. From the heart Marion
Healer program
I am eternally grateful to all 4 compassionate teachers for not only sharing the wisdom and healing knowledge from their individual traditions, but also giving us healing sessions through rituals. I am especially touched the many rituals by Chief Dancing Thunder. The teachers have guided me to reconnect with my real self - without inner dialog and intellect - with beings of other unverse and my ancestors, which I never knew its importance before to make those connections. From them, I have learnt the true meanings of Healing. I feel blessed that I was able to attend this course.
Healer Program
There is always more to life than it appears to be... Those were the words that my grandmother said to me when I was in my teenage years. Deep in my heart I knew she spoke the truth. Rather than accepting her invitation to start the sacred way of learning about the ancient wisdom, I chose not to, simply, because of fear and being labeled as "different". I grew up in a culture were the ancient ways of living were "tabu" for a long time, and my family members lived and practised it in secret. Later on in life, after her death, I asked my father about my faith: he looked at me silently, and then said: " I will say nothing. When the time will be right, you will get there." And..., of course, I did. My awakening took me on a very twisted path- full of devastation, loses, challenges, and all sorrow that could happen to a young human being who tried to figure out life, and why it unfolds in this particular way... The answer I got came quite late, but I knew for sure- it was the right one- I have always felt that there is a profound support from above and bellow, that enabled me to rise above all the challenges, and to become who I am now- forgiving, loving, healing human being... A couple of years ago, in one of my visions, I had an encounter with a medicine man from American Native tribe. He took me to one of the caves where we both sat at the fire. He looked at me and said:" Patience, you are almost there. Practice patience and silence. Connect to Earth mother and the natural environment. Feel and see yourself as one with all relations. You will be called when the time is ripe." Since that day everything changed... It happened last spring. I was browsing through the Facebook pages, and here it was- an advertisement about Zennergi and the Healing programme where the workshops were given by experienced world wide respected and known Shamans like Chief Dancing Thunder, Elliot Rivera, Bulgan and Ahamkara. Without even given a thought I signed in, for I remembered the words of an American native medicine man:" You will be called when the time is ripe." These sacred knowledge and wisdom keepers gave me all that I was looking for, and ever desired- the ways to rediscover, layer after layer, my true authentic me; it encouraged and taught me how to re-member my true Universal and Earthly origins; Now I can look at all that is with my eyes wide open, my heart being at peace and harmony, and most of all, being sincerely happy with myself, and the task I was given since my birth. Before I put the final stop to my story I want to express my biggest gratitude to Eva, Michael and Michael's mother. Thanks to them I felt like,finally, being home. They are the most humble and sincere hosts I have ever met. " Thank you all. You make my soul smile.
Healer Program
This healer program has touched every essence of my being.
Healer Program
In a sacred moment of time to reside in togetherness and unite in the infinite realms a divergence in existence a treasure to expand into endless love I bow in gratitude to all those present side by side during the many months - the seen and the unseen. I bow in love.
Healer Program
Reconnects to Spirit. Blows the mind (away). Opens the heart. Transforms the body.
Organ Massage
Ahamkara is generous in sharing his knowledge. He has a calm en unperturbed way of explaining. His English easy to follow. The massage of the internal organs is a gift in itself. You feel relaxed, the functioning of the whole body seems to improve, and I find it a pity that I do not find the time to do this every day of the week. Never knew that by massaging the organs pains in the rest of the body are disappearing too, like the stiff neck of my brother. Everything is so connected that even chronic pains could diminish or even disappear. And not to forget that all this takes place in the beautiful and inviting place that the kind, talented and warm hosts Eva and Michael created.