Master Your Emotions (2 weekends – 8 days)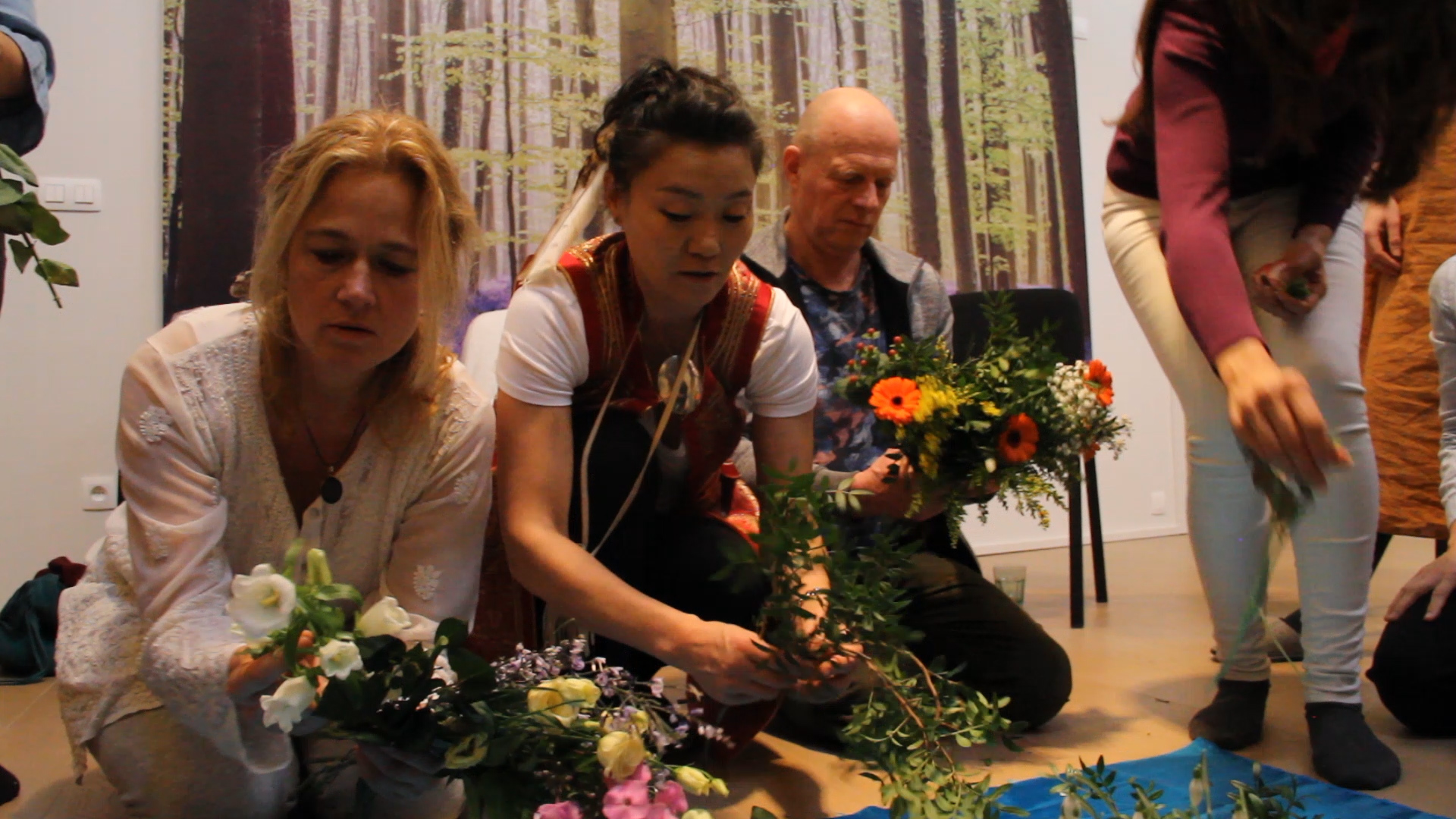 Bulgan Windhorse is known world wide for her empowering teachings. As she comes from the Kahn family in Mongolia – a well-known and direct family line of Shamans – she is a traditional and gifted wisdom keeper who helps people reconnect with their true power and identity. During four weekends which can change your life you will journey with Bulgan while she shares ancient knowledge and rituals for you to obtain mastery of your emotions. The following edition will be in the form of 2 intensive short retreats of 4 days for a limited group of max. 9 people. Staying in the retreat form is optional.
Preview "Master your emotions" with Bulgan Windhorse
Testimonials participants "Master your emotions 2018"
Program: 4 weekends, 4 spirits, many deepenings & rituals
Every weekend will be dedicated to certain shamanic rituals and ceremonies combined with special topics:
Weekend 1:
Eagle & Condor Training "Burged – Tas": courage & self confidence, inner strength & beauty. Seeing of your own belief system and thinking patterns.
In the Mongolian Shamanic tradition the eagle represents power and is messenger of Ulgen, Spirit of the Upper world. The upper world of the future brings positive changes in people's personal life and relationships.
During this weekend, we will give more attention to our essence and relationship with our "self".
Activation of our dream body "Sur Suld". We will sing, dance and use the drum that will lead you into trance. The trance that we use, will help you to develop your sensory perception and intuitive abilities to work in the shamanic dream world.
Windhorse ritual: will increase our personal spiritual power (energy) Hiimori. It will give you the power to feel and believe in your own spiritual being, joy and harmony.
Eagle Ritual: Eagle's eye: See far away as an eagle. We will analyze a very positive soft loving way to our present being here and now. This ritual will help us analyse our present being.
Eagle's wings ritual: We will meet the Power of the 4 wind directions and see how we can use it in your life. We also connect with the shamanic World Tree. This ritual will help us to see our life from a different position.
Time to dance: Experience your energy, power and moving body.
Condor ritual: During this meditative ritual we choose an old behavior and habit we want to let go in a very loving way.
Weekend 2:
Wolf  "Chono" Training: emotions & behaviour, intuition & understanding, past § social behavior, self development.
In Mongolian shamanic tradition, Spirit of the Wolf is the ower animal of Erleg spirits of the underworld and connected to our emotional state, past, desires, sensuality,mysteries and wild power.
Our mind has to choose between deep emotion and common sense. The mind mostly reacts through deep emotion that creates unpleasantness. It is of great importance to learn how we can change our mind from an emotional to an active state.
Wolf ritual: In this ritual we will learn to use our true voice. We practice a special breath technique and work with past issues. It's all about a specific emotions and how to deal with it and let go.
Shamanic chanting: we learn to use one of the most powerful shamanic methods. It will help us to listen to our inner voice and to feel our inner connection with the spiritual world.
Shamanic ritual: Cut the tie. Mongolian shamanic tradition believe that sometimes the emotion and feelings are related to the ancestors and some of the emotions and feelings are related to our past. Through this ritual we learn to let go and and move forward more easily.
Shamanic Trance dance: experience through this ritual the relationship with our self and others. This is a cleaning ritual to heal the family tree and ancestor line.
Activate the body system: We will learn a massage technique for the body that activates our body system.
Group work: Once the journey starts, we let go of the past. What matters is here and now and who you become.
Weekend 3:
Bear Training "Baavgai": Here and now, hurt & heart energy, choice & decision, grounding & responsability, compassion.
In Mongolian shamanic tradition Bear Spirit represents Power and the protector of the Umai Spirit. Umai is the High Spirit of the Middle World, "Here and Now", and gives love and protection.
During this weekend you can clarify and anchor your feminine qualities and behavior. Meeting with the Umai Spirit, we will create a sacred space in the Yurt of Umai Spirit for trust in yourself and for others.
The four elements: We work with the spirits of the elements of the earth. It will remind you that we are the center of the universe and we have a connection with everything around us.
Grounding Ritual: Creating inner courage, self-confidence and strength. We will use a shamanic costume and experience how the shaman use this for grounding as they feed their energy from the earth.
Gratitude Ritual: Ritual for our ancestors, connecting with them and asking them for support, healing and blessings.
Guided Heart meditation – tusgaarlalt. Relaxing the body, heart and mind. Experience your inner silence. Opening faith and love for the divine in yourself.
Bear Ritual: how to get up on our two feet without hurting ourselves and the beloved ones. Experience the power of the body. For this ritual we will use breath technique, own voice, body work and courage, support from others.
Ritual for respect and joy: We will work with groups for this beautiful ritual. Every one has the desire to give shape to his/her dreams and desires.
Ritual making choice: we need to learn to live consciously and to choose. Understanding your survival patterns. Making choices and taking desicions are directed forward. Why are we not able to get further? What is holding us back? Making choices is what you do with your logical mind, but the movement or action is coming from your heart. If we choose a positive way to be in contact with our heart, we won´t suffer or feel regret and guilt. We will use the encouragement of the group, when you are going to make a top choice or decision. This ritual gives you insight and tools to make a better choice and to take action.
To take responsibility for your actions and dare to use them more often. During the ritual you will discover more about your own patterns. This ritual will help you to remind yourself to take care of yourself, create borders, and to just "be" with yourself.
Technique: Learning Mongolian shamanic work: You will create protection tools, small healing work-that Mongolian – Siberian shamans call "Domnoh".
We will do beautiful "Gratitude Ceremony" for our Mother Earth.
Weekend 4:
Owl Training – Shar shuvuu: Transformation through realisation, celebration & initiation.
Owl is represented in Mongolian Shamanism as "Eye of High Spirit helper". It is all about spiritual achievement where our intellectual mind, emotional willpower and our feelings plus awareness are working together, encouraging and supporting each other. It is about precise awareness. 
Your self-awareness changes your material body and reaches every cell in it. Now you have come to a better understanding of yourself and you can be an individual. The person you want to be. Transformation takes place through realisation.
Owl ritual – Turning point: Bulgan says "Why do shamans and wisdomkeepers know much more about us than we do? What do you think? They can see things differently. That is what I´ve learned through my shamanic training." Realizing where our journey started and what our achievements are, gives us a new sense of "I". Now we see things very clearly.
Suit the action to the word. Keep your words; be loyal to your own self. This will be noticeable in your work, home, in your relationships and towards all children.
Brainwork practice: A fun way but very challenging one to learn to do 2 or 3 tasks at the same time without losing awareness.
Learning a healing method: You will be able to give energy to yourself and others. You learn to connect with a universal energy lineage which has to be done first.
Mongolian Oracle "21 Dari – Ekh: 21 Goddes spirit": Let's get inspired by all the beauty, magic and capacities of the oracle that are parts of ourselves. We will write a little essay on the topic: "If I use all of these women High Spirit Capacities, magic and beauty in my life, how will "I" and "My future" look like?"
Meditative Ritual: Experiencing, purity of our soul. Enjoy with compassion.
Traditional breath exercise – "41 tsagaan lonkh":  We practice this very good healing exercise for our longs and for our awareness.
Initiation Ritual – "Wise Person": Time to celebrate our achievement and give each other a beautiful "Wise Person" initiation. This fun and beautiful ritual will bring all qualities in harmony together. From here you can feel and see your relationship with yourself, your children, your parents and the people around you. Once the journey starts, past is no longer important, only the here and now and who you become.
Practical information:
Price: EUR 1100 (lunch excl., 8 days)
Payment: through deposit to reassure your submission. Rest is due in cash on first class day. The account number will be provided in the automatic reponse when subscribed. Spread payments are a possibility. Please send your request to info@zennergi.com
New dates Belgium 2020: october 22-25, november 19-22
Retreat Zennergi: You can stay in Zennergi on donation base
Participants: max 9
Start: 10h-17h
Language: English
Subscribe: via "Submit" or info@zennergi.com
Level: Beginners & Advanced
Facilities: Changing Room, floor heating, Free Lounge & Tea corner
Extra: Easy Clothing (yoga mats, cushions & pillows are provided)
Doors Open: 30 min. before start, via main entrance (streetside)
Contact: via info@zennergi.be (preferably) or +32488473033
Address Belgium: Brugstraat 30, 3740 Bilzen, Belgium
Free parking: See contactpage (C.C. De Kimpel, eikenlaan 25)
Hotels: for suggestions see "hotels"

Master Your Emotions (2 weekends – 8 days)
5
---
Master your emotions
A subtle yet very powerful tool of connection, to oneself and to our co-beings in the Multiverse, and transformation, through the heart and a true sense of fraternity. There's one sentence that will stay with me forever : "It's not important who you were. It's important who you become." Thank you, Bulgan. My love and gratitude goes to you, my beautiful inspiring teacher.
Master your emotions
With stories, a sense of humor, visualisation techniques and so much more took Bulgan, a very generous teacher, me and the group on a journey of teachings and healing techniques, insights and understanding. A new light on emotions in general and how understanding animals can help you grow. Working alone and working together with the group. Building up trust and confidence. For me as a coach and facilitator it was also very rich to learn new elements that I can use during my sessions with clients. Gratitude, love and laughter.