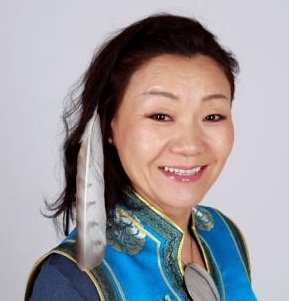 Are you currently healing from a physcial, emotional or mental injury, illness or trauma? Mongolian Shaman Bulgan Windhorse will guide you during 4 saturdays on how to become the healing on your healing path. True healing can only take place in a pure state of healing. (subscription possible until 19/3)

You will experience what "healing" and "the state of healing" really is and how to integrate it in your daily life so you can stay healthy.
Meet Bulgan Windhorse in the preview of "Master your emotions" below:
During the 4 gatherings you will learn to create the right healing conditions, experience healing ceremonies, practice healing techniques, receive detox and cleansing suggestions, find comfort in going through the healing process with others and see new perspectives based on advise given during the sharings.

Within every meeting with the group you will find yourself guided and supported by Shaman Bulgan Windhorse and fellow travelers on the healing path. There will be sharings about succesfull healing stories as well as the obstacles along the way and how to address them with resilience and confidence. Dealing with set backs is part of mastering the "State of healing". What you personally are confronted with during your individual healing process will be an important aspect of transformation for yourself and the others in your group.

There is a difference between the desire to find healing and to become the healing yourself. In the true state of healing you find the way back to a balanced emotional state of being and a healthy physical body that is aligned with a purely spiritual connection.
Mindset & Breakthrough
During these 4 gatherings teachings and ceremonies are shared to reset your mindset and create a breakthrough on your healing journey. With years of experience in the field of healing, helping hundreds of people, organising many healing retreats in Mongolia, Bulgan Windhorse looks forward to you joining this healing cirlce to empower your own healing.
See and listen what participants have to say about Bulgan Windhorses "Master your emotions" program:
For whom?
These 4 gatherings are for everyone who is seeking for healing. In case of a specific mental illniss, please inform us personally first before participating. You can do this via info@zennergi.com. The gathering are held in small groups of maximum 12 participants.
Practical information:
Teacher: Bulgan Windhorse
Price: EUR 600 (4 saturdays) (subscription possible until 19/3)
Dates Bilzen 2023: march 25, april 8, april 22 & may 13
Payment: deposit to reassure your submission. Rest is due in cash on first class day. The account number will be provided in the automatic reponse when subscribed. Spread payments are a possibility. Please send your request to info@zennergi.com.
Participants: min. 10 – max. 12
Start: 10u-18u
Language: English
Submit: via "Submit" or info@zennergi.com
Contact: via info@zennergi.com (by preference) or +32488473033
Address Belgium: Brugstraat 30, 3740 Bilzen
Address The Netherlands: Kanaalstraat 10, KC Purmerend