Crystals & Spirit Stones of the mystic (9 days – 3 weekends)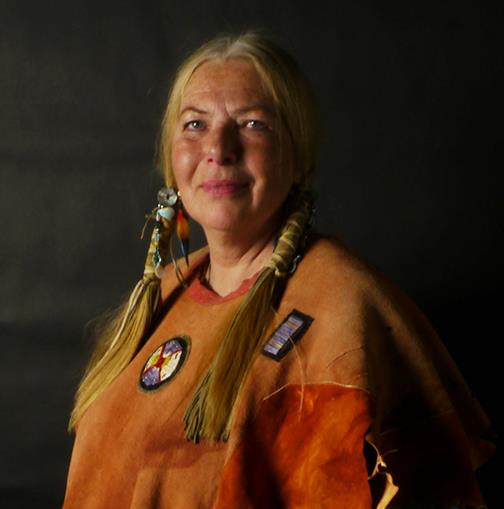 During the year program "Crystals & Spirit Stones of the mystic" Shaman Blue Star will connect you with the ancient knowledge of stones and crystals. Blue Star is a shaman, medium and clanmother of the Susquehannock tribe. She travels around the world to spread the teachings and rituals passed on to her. In shamanism there are specific ways in which you can connect with the spirit of stones and crystals. During 3 weekends you will learn how to connect and work with the stone people.
Full teaching video of Shaman Blue Star on "Crystals & Spirit Stones of the Mystic"
Clanmother and Shaman Blue Star
"Blue Star" is a Shaman, Healer, Medium, story teller and exceptional teacher of Aboriginal & Norht American-Indian spirituality. The traditional name for a shaman is "a person of knowledge", a person who passes on knowledge.
After many years of traveling throughout Australia Blue Star got adopted by the aboriginals after she also became part of the Susquehannock tribe through Chief Piercing Eyes Penns. After this event she traveled more then &8 years with his successor Chief Dancing Thunder. She obtained a Master degree in Music, invented "Dreamtime Piano Music", studied psychology, Dream Therapy, Gestallt Therapie and is part of transpersonal healers in the Nederlands. She also is anointed as "International Clan Mother of the Pan American Indian Association".
Blue Star teaches all over the world to share the sacred rituals passed on to her. She serves spirit by spreading this ancient knowledge and bringing healing. Working with the spirit of stones and crystals is part of this knowledge.
Content "Spirit Stones of the mystic"
There is a reason why people have always experienced such a profound connection with stones, and more precisely with crystals (quartz). All minerals you can find in the stones are also present in the human body.
In this course ancient knowledge that was kept secret will be revealed again. The power of the "sleeping stones" was only passed on to initiated priests or priestesses, medicine men or medicine women, mystici or those who were involved in multi-dimensional transformations.
Few things you will learn during this program:
Various ways to connect to stones and crystals
Crystals as messengers, receivers, healers, amplifiers of spiritual capacities
Create energetic fields (eg. for ceremonial space)
Learn to direct energy through the use of stones and crystals
How to better communicate with spirit helpers
Crystal gazing & screening
Various methods of cleansing
Invite helpers of parallel levels of consciousness
Transformation into the crystal, rainbow light, white light, invisible light
Light frequencies and connecting crystal frequencies
Healing of our own energybodies
Personal purpose of the stones
Spirit calling stones and dreamstones
How do stones keep the history of the earth and how can we read this information?
…
Pyramides, dubbel pointers, lemurians, golden ones, laser pointers, cathedrals, scepters, herkimer diamonds,…
Practical information:
Teacher: Shaman Blue Star
Price: EUR 1350 (9 days, 3 weekends, lunch excl.)
Payment: deposit to reassure your submission. Rest is due in cash on first class day. The account number will be provided in the automatic reponse when subscribed. Spread payments are a possibility. Please send your request to info@zennergi.be.
Dates: March 17-19, June 16-18 & September 15-17 (2023)
Start: 10h – 17h
Language: English
Submit: via "Submit" or info@zennergi.com
Facilities: changing room, floor heating, Free Lounge & Tea Corner
Extra: Easy Clothing (yoga mats, cushions & pillows are provided)
Doors Open: 30 min. before start, via main entrance (streetside)
Contact: via info@zennergi.com (preferably) or +32488473033
Address: Kanaalstraat 10, Purmerend, The Netherlands
Hotels: for suggestions see "hotels"
Crystals & Spirit Stones of the mystic (9 days – 3 weekends)