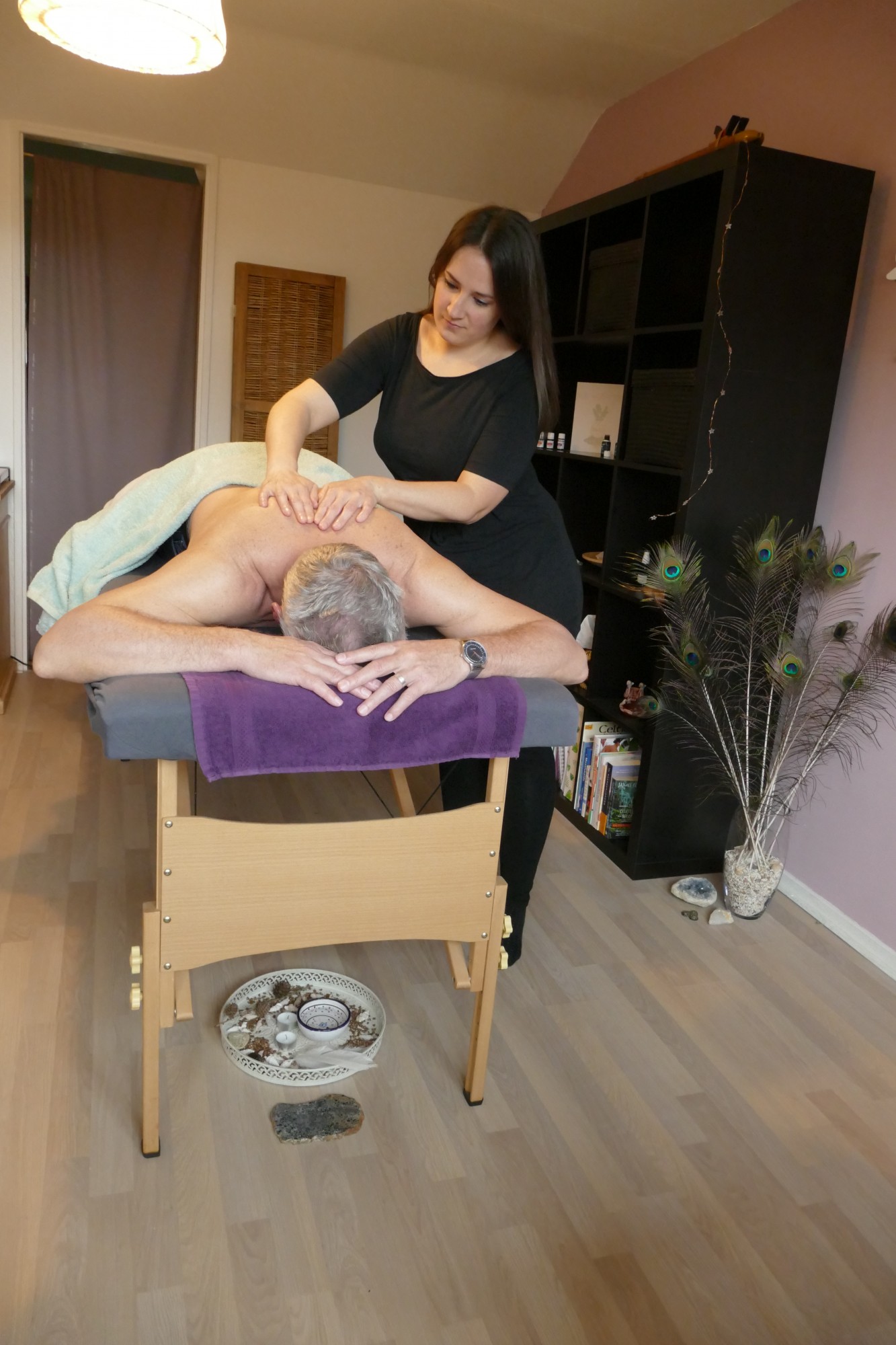 Renee is specialised in healing & diverse massage techniques. She can work with back, neck, shoulder, joints problems, specific pains, but also have experience with burnout, fatigue, anxiety, sadness, old patterns, high sensitivity, trauma, loss, sexuality & furtility issues. Depending on the nature of the problem she can suggest a healing or massage.
Massage brings balance, relaxation, repairs body functions, improves the energy flow and helps improve on the physical level. Healing takes place on energetic level and filters touches different layers.
About Renee
Renee is a professional nurse. She combines both the knowledge of the classical medicine with traditional techniques of healing and massage. In her sessions you will recognise different shamanic tools from Mongolia, Cuba, Africa, North & South America, Australia & Siberia. She participates on a monthly base in the Dreamtime Healing Concerts at Zennergi. Renee believes every human has a personal path to healing.
Massage techniques:
Relaxation massage: full body massage
Head, neck, back & shoulder massage: specifically for people with headaches, stress or when your main posture during the day is a sitting one
Facial massage: the face gets a profound and soft treatment with essential oils
Hot stone massage: the healing effect of warm basalt stones will filter down the different physical layers
Energetic massage: your body consciousness will indicate to which places healing energy is needed through massage
Foot massage: by using pressure points you experience an unloading of the organs and bodyparts who are connected.
Essential oils
By request we can use specific oils such as avocado, ortho-ease or an oil for muscles and joints. Almond oil is used as a standard oil. Aroma therapy is an option during the massage or healing.
Practical information:
Healer & massage therapist: Renee
Price: Massage: EUR 95 (90 min.); Healing EUR 100 (90 min.)
Payment: cash
Dates: 2x tuesdays/month
Language: English & Dutch
Subscribe: via "Submit" or info@zennergi.be
Payment: deposit to reassure your submission. Rest is due on first class day. The account number will be provided in the automatic reponse when subscribed.
Facilities: Changing Room, floor heating, Free Lounge & Tea corner
Extra: Easy Clothing (yoga mats, cushions & pillows are provided)
Doors Open: 30 min. before start, via main entrance (streetside)
Address: Brugstraat 30, 3740 Bilzen, Belgium
Contact: via info@zennergi.be (preferably) or +32488473033
Free parking: See contactpage ( C.C. De Kimpel, eikenlaan 25)
Hotels: for suggestions see "hotels"
Suggestions as preparation for the massage:
Please inform us about any type of injury or physical complaints
Please no use of coffee, alcohol or energy drinks and no meal about 1 to 2 hours before the start of the massage
We prefer you take a shower on beforehand if possible