Shamanic Cranio Sacral Healing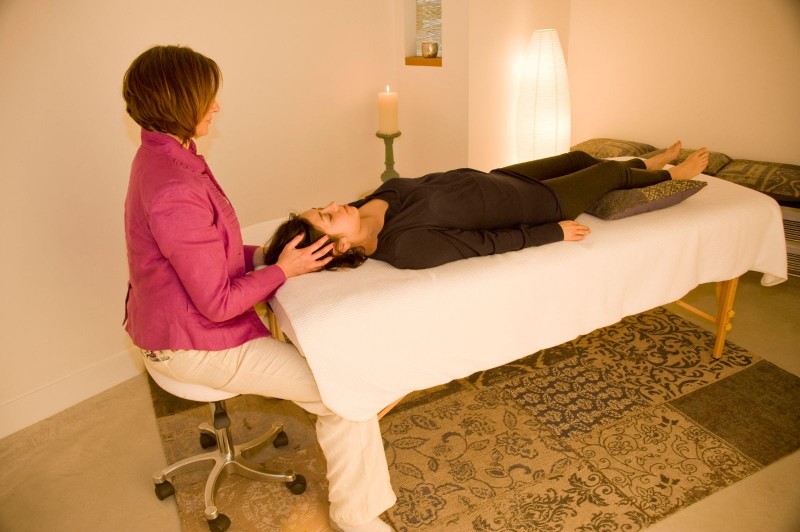 Karine is gespecialiseerd in Biodynamische Cranio Sacraal Therapie & Trauma Healing. Deze behandeling brengt het centrale zenuwstelsel, de hersenen, de wervelkolom en het ruggenmergvocht terug in een staat van balans en werkt samen met de trauma healing door op meerdere lagen. Vooral mensen met klachten rond burnout, migraine, chronische vermoeidheid, pijn, depressie, post traumatische stress stoornis, hoogsensitiviteit, zwangerschapsondersteuning en vruchtbaarheidsuitdagingen ervaren Cranio Sacraal Therapie als een krachtige ondersteuning.
Over Karine
Karine is gespecialiseerd in Biodynamische Cranio Sacraal Therapie (BCST) en Trauma Healing.
Ze studeerde bij Franklyn Sills in Karuna Instituut in Engeland, pioneer in het veld van Biodynamische Craniosacraal Therapie. Doorheen de jaren integreerde Karin verschillende healing tradities in haar praktijk (Tibetaanse Shindo, Maori bodywork, Kundalini Yoga, Sjamanistisch healingswerk). Afhankelijk van de behoeften van de client combineert ze diverse healingsmodaliteiten in haar begeleiding. Sinds jaren is ze reeds een student van een Noord Amerikaanse medicijnman en participeert ze geregeld in de Dreamtime Healing Concerten bij Zennergi. Karine spreekt frans en engels. Deze behandelingstechniek vindt plaats in stilte terwijl de focus ligt op de taal van het lichaam.
Wat is Biodynamic Craniosacraal Therapie?
Biodynamische Cranio Sacraal Therapie is een zachte hands-on, diepgaande behandeling voor het volledige lichaam. De behandeling ondersteunt het zelfregulerende en balancerende systeem van de client opdat het zichzelf terug versneld in staat van genezing brengt. Stress wordt afgevoerd terwijl het systeem energetisch wordt aangevuld en vitaler aanvoelt. Het lichaam reageert op de sensitieve aanrakingen door terug naar zichzelf te gaan luisteren. Dit resulteert vaak in het gevoel dat de client vanuit een onbenoemde diepte "gehoord" of "gezien" werd.
Hoe werkt BCST?
Op fysiek niveau – BCST beïnvloedt het centrale zenuwstelsel, de hersenen, de wervelkolom en de ruggenmergvloeistof waarin het omhuld en beschermd wordt. Zowel op de harde skeletstructuur van beenderen en schedel tot op het zachtere en uit vloeistof bestaande endocriene (hormonale) systeem heeft Cranio Sacraal Therapie een zachte maar diepgaande en effectieve uitwerking.
Op emotioneel niveau – BCST beïnvloedt diepgaande primaire reactiepatronen, terwijl de client de ruimte en bescherming ervaart om de opgeslagen emotionele lagen los te laten. BCST geeft via deze ingang een diepgaand gevoel van her-opladen doordat oude ladingen vrijgelaten worden en opgevuld met nieuwe levenskracht.
Op spiritueel niveau – BCST opent de deur naar je hart door het loslaten van oude patronen waardoor je hernieuwde inspiratie en levenskracht ervaart om je leven op een positieve manier te veranderen.
Voor wie is BCST geschikt?
BCST verlicht symptomen gerelateerd aan migraine, angsten, burnout, chronische vermoeidheid en pijnen, depressie, post-traumatische stress, complicaties gerelateerd aan geboorteproces, trans-generationele problemen, trauma's,… maar kan ook ingezet worden tijdens belangrijke overgangsfases zoals zwangerschap, start van een nieuwe carrière, scheiding, verlies van een geliefde, herstel na hospitalisatie of ongeval.
Bekijk onderstaande video en leer meer over Biodynamische Cranio Sacraal Therapie:
Volgende video beschrijft de neuroanatomie van de ruggenmergvloeistof:
Praktische informatie:
Prijs: EUR 100 (1u30 min)
Betaling: cash, ter plaatse
Data: maandelijks (voor exacte data, zie verder)
Contact: via info@zennergi.be (bij voorkeur) or +32488473033
Adres: Brugstraat 30, 3740 Bilzen, België of Kanaalstraat 10, 1441 KE, Purmerend, Nederland
Gratis Parking: zie contactpagina
Hotels: voor suggesties zie "hotels"

Shamanic Cranio Sacral Healing
5
---
Cranio Sacral Therapy
I experienced a gentle and profound support, and felt being embraced and moved into well-being thanks to the quality of presence and embodied touch. I greatly recommend cranio sacral sessions with Karine.
Cranio Sacral Therapy
"Karine is a very powerful and profound healer, because she combines knowledge with wisdom. Her hands are a touch of purity and deep profound healing. Karine is a wonderful person and a powerful healer, so pure and so real, she is able to connect with the source, a place where everything comes from. She is able to bring you to a beautiful deep space so relaxation will come to you. For the very first time in my life I have experienced my system, my true nature. It was an unforgettable experience, full of intimacy, depth and holiness. Karine made me feel my own system knows how to heal itself. Knows where to go, knows the way. Karine makes it possible because she works like a mirror. Karine is one of the most honest and sincere people I know. She combines her experience with wisdom that is older than her her years running on this earth. She is sincerely interested and has a very big loving heart. Her integrity touches me every time i am with her. She is able to bring me to a place I knew it existed, but had forgotten how to get there. I guess that's where i come from, it's called home."
Cranio Sacral Therapy
I had the pleasure to have a few sessions with Karine. If somebody can give me the support to arrive gently in the here and Now without to many words It's feel like coming home. Karine is a talented therapist who brought me home a few times. That's all we can support each other in ..Simple …but yet …not so easy ..Thank you Karine for showing new sides of myself I forgot about.
Cranio Sacral Therapy
"I had a series of treatments with Karine in different occasions, each time she would access very relevant parts for my healing process; with care and a loving support she let it unfold through my body. I deeply appreciated Karine's sense and intuition, prior, and after the sessions, so she could clarify for me what was happening and put it in perspective. Thank you Karine for supporting the [re]-connective process to flow again so I can feel more whole. You are a gifted therapist and powerful intuitive healer."
Cranio Sacral Therapy
`In the cranio-sacral therapy sessions I had with Karine I experienced that there is much more to the body than I am consciously aware of. She offered me a caring, safe and yet professional environment to fully meet some stuff that had been blocked for I don't know how long. Getting rid of that was an intense experience and a huge relief. In my personal path, these sessions helped me to be more centered, more aware of what power we carry within us and more respectful toward my body. I am very grateful for that.'
Cranio Sacral Therapy
In the Karine's Cranio sessions I experienced a lot of openness, stillness and the space to explore, whatever my system wanted to explore, release, digest. Karine offers a clear and caring frame, guiding me through the different phases. I enjoyed every time at the beginning of each session, that she took the time to help me connecting with a resource. That resource functioned as an extra support. Karine also dared to explore places of my system that are not so usual, like for example a release from the inside of the mouth. I felt I totally could and can trust her, even when things get vulnerable or delicate. Next to all the professional skills of Karine, she is just a wonderful, empathetic, loving human being, and definitely also somebody to have a good laugh with!
Cranio Sacraal Therapie
Mijn ervaring met deze behandeling is dat ze erg ontspannend werkt. Het is een erg zachte behandeling die bij mij erg veel rust bracht. Het contact met Karin was erg aangenaam, haar intuïtieve manier van werken is bijna magisch te noemen. Ik kan deze Cranio Sacraal therapie aan iedereen aanraden.
Cranio Sacraal Therapie
Mijn eerste ervaring met Cranio Sacraal Therapie was super.Karine voelde meteen heel warm,vertrouwd en veilig.De ruimte in Zennergi maakte het warme bad compleet. Ik was op zoek naar het herstellen van de balans in mezelf.Ik kreeg er geen grip op.Toen ik de aankondiging las van de Cranio Sacraal Therapie,voelde ik,Yes,en het bleek achteraf helemaal een Yes te zijn.De beschrijving van zowel therapeute als therapie klopte helemaal voor mijn gevoel. Karine heeft de gave om je te laten afdalen in jezelf.Je glijdt als het ware in jezelf,je kijkt er rond,zo lang en zover als je zelf wilt.Het voelt veilig en heel natuurlijk. Het was een hele mooie en zachte ervaring.Even thuiskomen inderdaad bij jezelf.Het geeft me vertrouwen in mezelf,het universum en mijn toekomst. Ik vind het ongelooflijk hoe Karine dit mogelijk maakt,als therapeute. Cranio Sacraal Therapie vind ik een hele mooie,complete therapie,die ook nog eens heel geschikt is als je hooggevoelig bent.Het is zuiver en puur. Dank je wel Karine en Zennergi.
Cranio Sacraal Therapie
Carine is een lieve en rustige vrouw. Je voelt je bij haar dadelijk op je gemak. De behandeling geeft je op het moment zelf en ook nadoen een heel ontspannen gevoel. Niet alleen op fysiek maar ook op mentaal vlak zijn er verschuivingen geweest na de behandeling. Voor mij was het een zeer positieve ervaring, zeker een aanrader dus..
Cranio Sacraal Therapie
Ik had een prachtige ervaring niet in woorden uit te leggen je moet het ervaren bedankt 💗💗💗
Karine's Biodynamic Craniosacral Therapy
After several surgeries and the inevitable anesthesia resulting in physical issues, I tried different treatments. Karine's Biodynamic Craniosacral Therapy was the most effective treatment. Already after the first session I noticed a big improvement. I have had craniosacral therapy before but never with similar results.