Sand healing in Gobi desert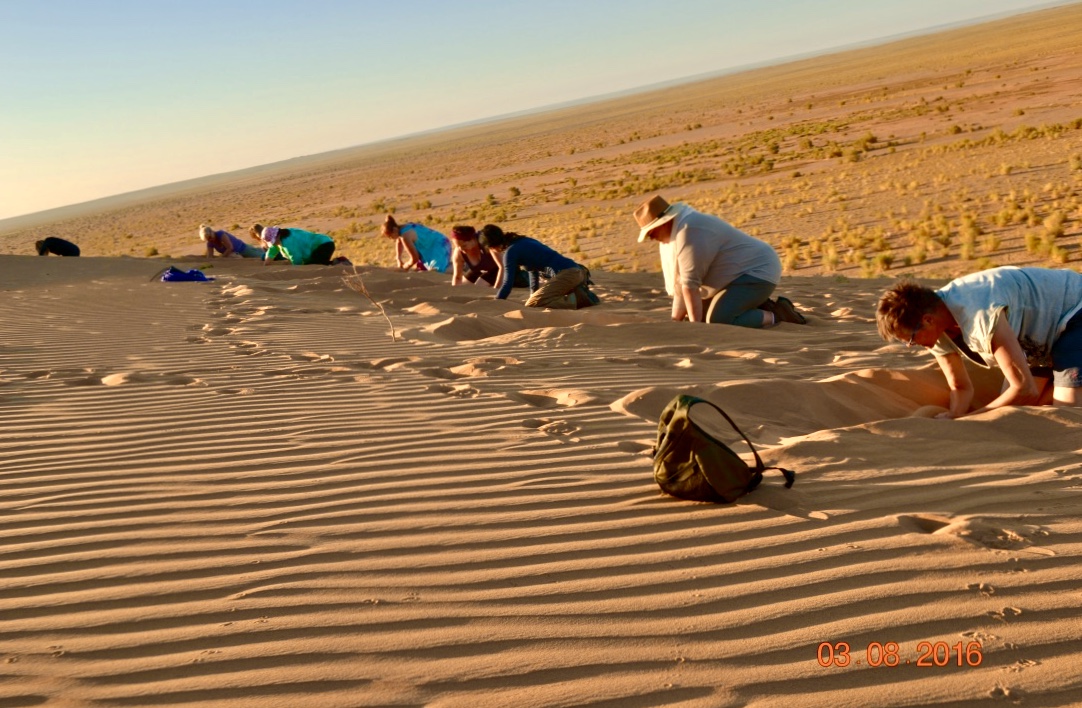 Explore the magnificance of Mongolia, one of earth's most wonderful and natural places. During this special healing trip to the Gobi Desert we experience the transformational power of the Sand Mountain where shamanic rituals, silent walks in the nature and daily detox sessions with the sand will give us a new start in life. Mongolian Altaï Shaman Bulgan will guide you on this unique and life changing experience.
Sand healing Trip to Mongolian Gobi Desert 
The Sand Healing Mountain, Uush, is a great healing place with ancient Mongolian mystical healing powers. It's situated in the middle of the Gobi Desert, which lies in the Southern part of Mongolia, where sandy deserts occupy 3% of the total territory.
It is also a land of dinosaurs (dinosaurs' eggs were discovered for the very first time in Gobi in 1922), home to camel breeders and wildlife, and vegetation. Nowadays many international groups of people come to Mongolia just for this unique healing place.
This trip is great for those who really want to be cured by the special healing power of the sand, which you can only find in the Gobi Desert. The sand is not the same as normal sand; it has many different minerals that are essential for our body and has a very fine structure that absorbs a lot of sun energy and lots of oxygen.
What is it healthy for?
It is an excellent and very special nature method for:  mineral deficiency, oxygen deficiency, toxicity, back problems, osteoarthritis or osteoporosis, rheumatic fever, liver, kidney, uterus (womb), disease and the effects of injuries of the musculoskeletal system, nervous system, high and low blood pressure problem, the male and female reproductive system, infertility, skin diseases and swelling of the body and legs, etc.
Scientifically proven
Our skin is the largest organ of our body and second is the lung.
According to Norwegian scientists is 1 hour of sweating the same as 24 hours of urinating. There are many scientific researches that show us that many medical treatments are based on the function of our skin.
Sauna
Hyperthermia therapy
Sweat-lodge: shamanic ancient healing method
Mineral bathwater with different minerals that our body needs
Detoxing warm bath with special minerals and herbs to excrete toxicity from your body through the skin
Oxygen bathwater with extra oxygen
Thermo warm bathwater, which is used to increase the body temperature
Healing vacation
You will get this whole treatment as one with your healing vacation.
The sand healing ancient nature method means that you're going to be covered by hot sand in the sand mountains. You will sweat a lot like in a sauna or sweat lodge. The purpose of this process is sweating, so that special sand minerals will melt on your skin.  Your pores will open up from the heat of the sand, while the toxins in your body will be released and at the same time will our body absorb the minerals, oxygen, sun energy and powerful healing energy from the sand mountain and also from the powerful healing place.  Sweating leads to relaxation of the lever and kidneys, which means that they are able to reproduce new cells.
Being completely covered by the sand is also a kind of shamanic death ritual, which can be experienced as a rebirth.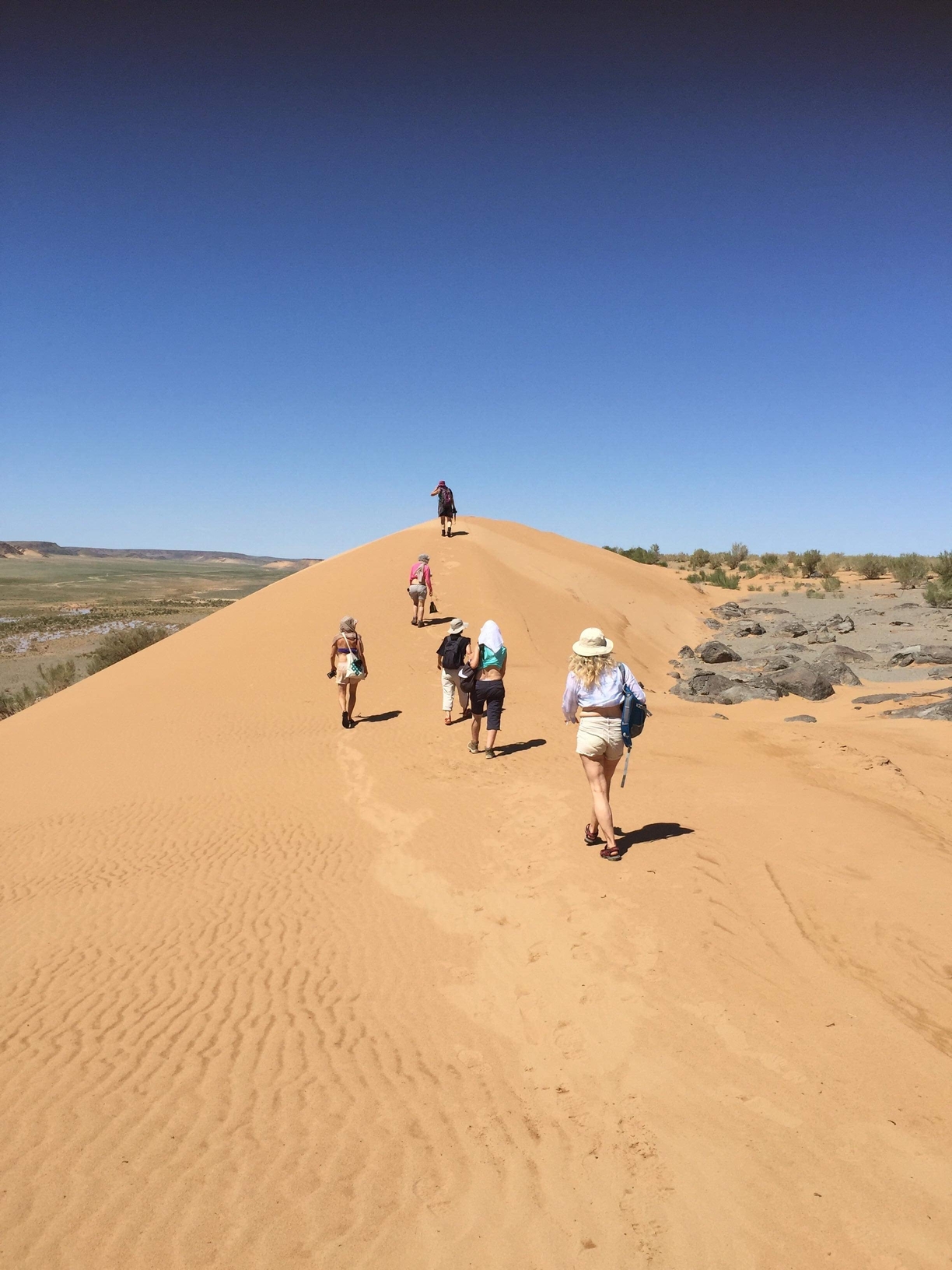 Schedule
Sated guided meditation for 1 hour with mp3 headset
Blood pressure checked by the retreat's doctor
A sunbath, hot sand treatment and relaxing massage but the time will vary each day.
Breakfast + Lunch
Gathering time for the circle
Lying down meditation for 1 hour with an mp3 headset
Diner
Walking meditation with mp3 headset
The trip will be guided in English.
Only vegetarian food will be offered, but for those who would like to have gluten-free or meat can be arranged.
Participants: min 8 – max 12
Price: €2400
Included:  an invitation for a visa, transfers in Mongolia, 11 days' healing treatment (sand bath+massage), 11 days of full teaching, food and accomodation (yurts, bed, mosquito net, shower, flushing toilet)
Excluded: International flights, visa to Mongolia (€ 50 – € 80).
Important: Max. luggage 25kg.
Dates: July 18-30, 2023. Registration will be until July 1st 2023
Contact & Information:
Apply for visa: windhorses@yahoo.com
Extra information: info@mongolianspiritualtours.com, http://www.mongolianspiritualtours.com
More about Bulgan: https://www.zennergi.com
Very unique and life changing experience! 
Mongolian Altaï Wisdomkeeper Bulgan Windhorse
Sand healing in Gobi desert