This unique 2,5 day program of Unending Purpose will guide and support you to reactivate the understanding of your own true purpose.
During our journey on earth we can have the feeling of losing clear vision where to go. The true meaning of life became a search looking for answers guiding you in the right way. You came on this beautiful earth with a never ending alignment, your unending Purpose.
The program will be guided by two teachers Andreas & Eva. They will support you to experience and discover your purpose in a unique way with guided meditations, shamanic journeys and authentic teachings combined with incredible sounds.
What do you learn during these days?
Master your Awareness
Discover your Awareness
Expand your Awareness
Energy Management
Purpose Discovery
Why is Purpose so important
Introducing the Purpose Model
Ceremony Part I-III to discover your purpose
Who can sign up for this program?
Every one is welcome to join this program, there is no pre-knowledge needed.
Who are the teachers Andreas and Eva?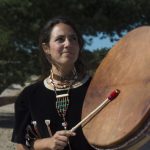 EVA | CO-FOUNDER
She was raised as a healer and medicine woman by her own family. She has been traveling from a young age to find out more about different traditions from a direct line of ancient knowledge. She worked with shamans worldwide and is now sharing this ancient knowledge from its pure source taught through the generations.
Eva gets inspired by learning more about healing, health, and nutrition combined with natural medicine and ancient knowledge. 6 years ago, she founded Zennergi World Healing Traditions together with Michael Star stone and worked with groups and companies to guide them towards their purpose in life.
ANDREAS | CO-FOUNDER
Raised in a "traditional" way, Andreas's curiosity for purpose and meaning started 15 years ago.Coming from solid business background ( Executive MBA, Coach, Transpersonal Coach, Head of Learning in a Large Corporate), he started searching for techniques to find his purpose in life. And he did.
To enable individuals and organizations to elevate their potential by discovering, knowing, and living their purpose.
In searching for techniques and wisdom, he traveled the world to learn from different teachers worldwide. This led finally to the strong calling to build the Purpose University. He is also the author of the book Gate 2-2.
Practical information:
Teachers: Andreas Wild Eagle & Eva Morning Star
Price: EUR 289,- (online) & EUR 360,- (on site)
Dates: March 4 (Purmerend) or june 24-26 (Bilzen)
Participants: min. 10
Language: English
Start: Friday 16.00h till Sunday 15.30h.
Submit: Please sign up directly on the website Unending-purpose.com click here
Contact: eva@unending-purpose.com & andreas@unending-purpose.com
More information: unending-purpose.com